There is nothing more humbling - and beautiful - than being a part of a wedding ceremony. To stand in the presence of love and of God's amazing work gets me every time. I want your day to be filled with joy and laughter and yes, maybe a few tears. Let's talk about your day.
---
Reach out on the Contact Page to discuss your wedding plans!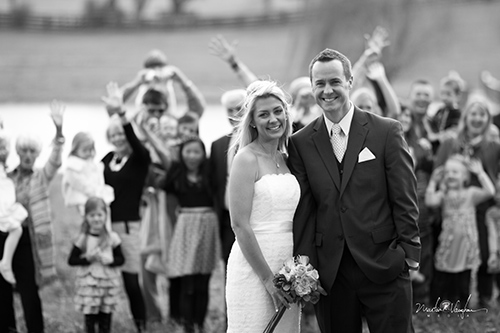 What others are saying...
W
hen Blake and I got engaged, there were so many decisions to be made, from the venue, to the photographer, flowers, food and more. But one thing we were 100% sure on was who the officiant would be. Todd Tyler! We even checked with Todd's schedule first before we picked a wedding date just to be sure he was available! I saw Todd Tyler officiate a friend's wedding years ago and knew that when I found my "one", that Todd had to be a part of our wedding. Todd makes every wedding special and meaningful for the couple, specializing the ceremony to their individual wants and needs. He can make the ceremony modern or traditional and can make the vows brief or longer. During our ceremony, people were laughing at some points and crying at others. Todd made the very beginning of our marriage perfect with how he structured our ceremony. But that's not all. Prior to the wedding, Todd was a resource for us, offering guidance when we had questions leading up to the big day. I know today if I called him and had more questions, or if we needed a friend or a mentor, that he would be there for us again. Todd Tyler is a fabulous person and has never met a stranger. Having him be a part of the most important event of our lives up to this moment was a fantastic decision! We love you, Todd!
Meredith
Married at The Biltmore Estate in Asheville, NC
December 10, 2016
---
T
odd Tyler did a marvelous job on our special day, and is and was a friend and advisor before and since. Kelli had known him for many years, and while it was my first introduction- he is one of those fellows that within the first five minutes of knowing the man, you know you have made a life long friend.
I'd also be remiss if I didn't mention how special he made the service. Todd understands how to introduce the perfect amount of showmanship, and in doing so created a positive energy that was both touching and still focused on my beautiful bride.
I'd be happy to recommend my friend as a wedding officiant.
-K. Sims
T
he evening of June 14, 2008 was magical to say the least, and having Todd Tyler as our wedding officiant simply added to the magic. My husband, Kirk, and I were married on the beach in Hilton Head on a gorgeous summer evening. Todd's charismatic personality helped to put us all at ease during what can often become a very stressful event. His professionalism and experience shined through at the rehearsal as he skillfully guided the entire bridal party through the sequence of events while still allowing us, as the bride and groom, to have some creative input in making the ceremony our own. Nearly all our guests commented on what a personal and heartwarming ceremony it was, and it was clear that Todd had taken the time to tailor his message specifically for us. Though Todd and Kirk had known each other for decades, Todd made a concerted effort to ensure that our wedding was about us as a couple. A friend later said, "It was the most romantic wedding I have ever attended," and I have no doubt that Todd played an integral role in making that happen.
– Kirk and Robin
A
wedding day; a day to remember and cherish for eternity.
When Kristin and I sat down to discuss wedding plans, the first item on our agenda was to decide on a minister to preside over our wedding. We realized the significance of this and knowing Todd Tyler as a personal friend and a man of Christ, it didn't take us long to pick up the phone and dial his number.
Todd made our ceremony personal to us and relatable for our guests. He was such a captivating speaker who let our love for one another reflect through his words, allowing our guests to share in our happiness.
After the wedding, numerous people approached us exuding how our wedding ceremony was one of the best they had witnessed and how our minister was truly amazing.
The truest compliment I received about Todd came from one of those crazy uncles every family has who stated, "I don't go to church much, but I sure would go to his church and hear that man preach, WOW, he can bring it!!!"; a true testament to Todd's character, a man who speaks and lives through his profound faith and heart.
Thanks so much Todd for making our day one of a kind.
– Rodney & Kristen
I
don't know if I can put into words how helpful Todd Tyler was in organizing both of my daughters weddings. The first one was almost six years ago, and I had no idea where to begin. I contacted Todd to help with music and little did I know, I was getting a full blown wedding coordinator. He recommended wonderful venues, vendors, timelines, programs, music, along with day of coordination at the reception site with the vendors. On top of all of that, he sat down with my daughter ahead of time and played and sang music, so she could pick what she liked for the wedding. (We were clueless!!). If the above wasn't enough, he actually played keyboard and organ at the wedding!! I couldn't have done it without him. When my second daughter was engaged, he was the first I contacted. He helped put together her music, helped the rehearsal flow smoothly, and played for her wedding. I felt so much peace knowing he had my back during both weddings and he was the detailed person I needed to think and remember the things that I didn't. I do have a third daughter, and he will be one of the first to know!!
-Mr. & Mrs. Jay Johnson
A
We feel so lucky to have had Todd officiate our wedding in Savannah, GA. Todd has known my husband for many years, but had just met me for the first time a few months prior to our wedding. He took the time to get to know me and ask us both questions to learn more about us as individuals, our relationship, and goals for the marriage. Although he had just gotten to know me, it felt like I had known him my whole life, and that feeling carried through in his message. Todd's message was personal, special, and touching. It was both extremely sentimental and funny. Several wedding guests still continue to comment on how wonderful his message was. His calm demeanor helped us relax amid the chaos that comes with a wedding day. I truly feel that our wedding was unforgettable because of Todd. He was calm, confident, and professional. AND he was able to take my husband's sarcastic comments in stride! It was without a doubt a great way for my husband and I to start our lives together!
– Chloe & Jordan
T
here are major life events or milestones… marriage, divorce, baptism and death just to name some of the majors. These as my mother would say, "are all part of a different seasons." There are good seasons and bad seasons, busy seasons and seasons that just last so long, eventful seasons and seasons of self reflection, needless to say… Todd Tyler has been there for many of my seasons.
On April, 14 2018 Todd married me to the love of my life, Chloe Ruth. I've see Todd lead a Sunday school class, sing at church, sing at a funeral, sing at a wedding, I've see Todd lead a group of high school kids to dance and sing (no he's not Whoopi Goldberg…), I've drank a beer with him, I drank coffee with him, I've drank communion with him and I've even shared a bottle of Champaign with him on a wedding dance floor. We've done it all.
Nothing we've done together over the last 30 plus years was as special as having Todd marry me to my wife. For a lifetime of memories with Todd, that will be the one I hold nearest and dearest to my heart. I'm thankful for Todd's friendship over so, so many season and I'm most thankful he was there for my happiest.
– Jordan